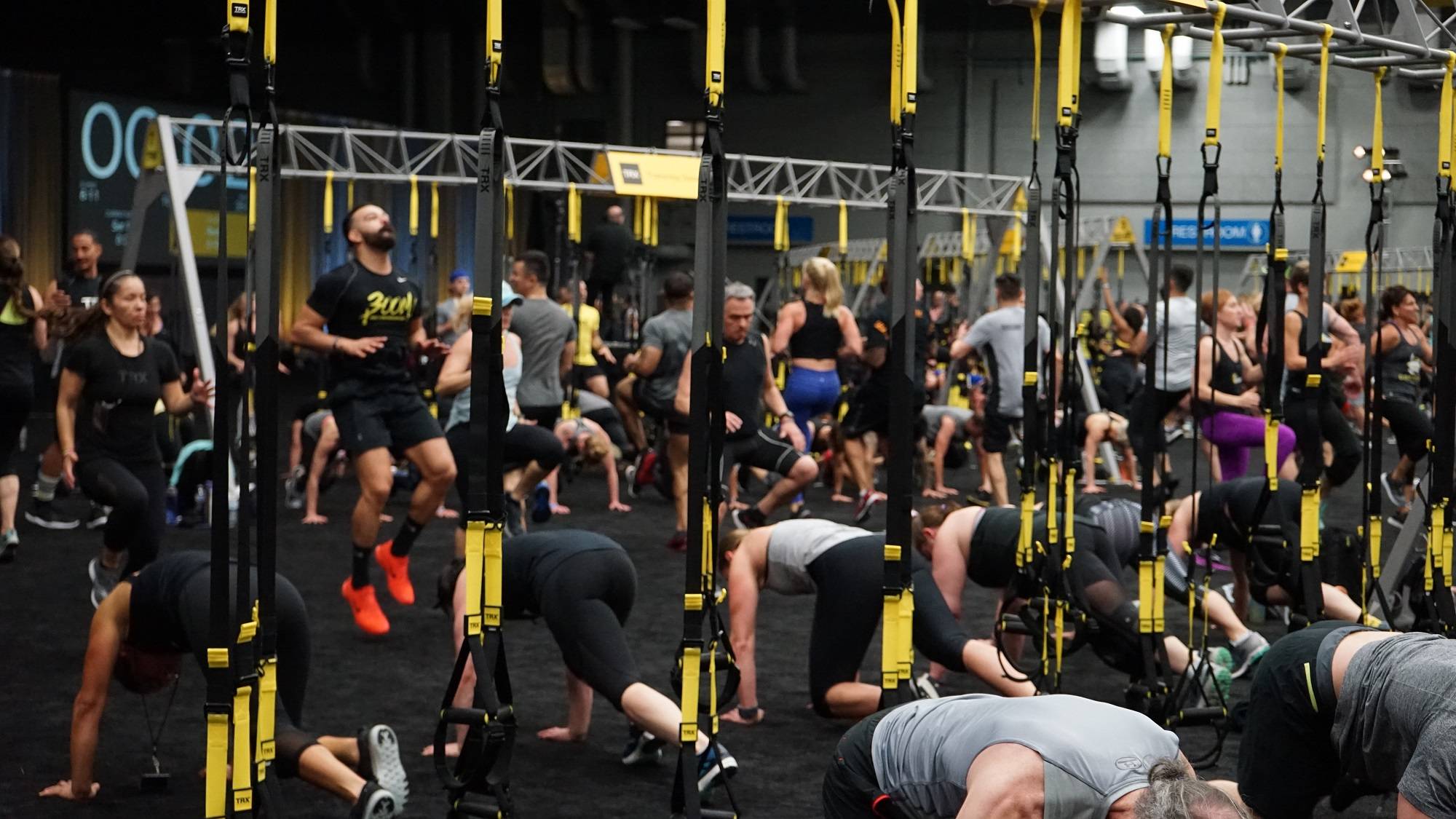 Two Days of World-Class Education, Inspiration and Connection
The TRX Training Summit unites thought leaders, industry pioneers, and hundreds of your peers for two days of inspiration, innovation, and fun. Whether you're a personal trainer, coach, group instructor, or TRX enthusiast, you will walk away from the weekend inspired and armed with the tools you'll need to up your game on every level!
*The TRX Training Summit is excluded from discounts and promotions.
WHEN:
September 16 & 17, 2023
LOCATION:

University of Oxford
Iffey Road Sports Centre
Oxford, UK, OX4 1EQ
PRICE
£275 Early Bird (register by to May 31, 2023)
£375 Regular Registration Rate (June 1-Sept 16, 2023)
TRX Sweat Workout (60min)
Danny Bartlett & Matt Gleed
Kick off your Summit Experience with a TRX SWEAT session. These circuit-style workouts will be sure to get your heart pumping. Get ready to sweat
TRX Summit Kickoff (30min)
YBell (60min)
Az Laurence & Vanessa Vassallo
The TRX Experience (60min)
Darren Dillon

Next Level Elastic Resistance (90min)
Miguel Vargas
This session will open your eyes to elastic resistance techniques that you've never imagined! Capitalize on the unique capabilities of strength bands to provide variable resistance and full body activation at high movement speeds at any angle for every element of your workout.

TRX Yoga Flow (75min)
Charlotte Tooth & Matt Gleed

The TRX Yoga Signature Flow is a 60min vinyasa practice that leverages the suspension trainer througout the entire class. With the perfect blend of intensity and restoration, you have to experience this all levels practice for yourself.

Creating Opportunities (45min)
Randy Hetrick
VIVOHEALTH- Barefoot Mobility (60min)
Gordon Cunningham

This body exploration session from the ground up emphasizes the power of barefoot training. Explore the science behind barefoot movement and the importance it has into your training environment. With the perfect blend of strength, mobility and balance applications, before bringing it all together by integrating movement patterns and locomotion. Showing you how to reconnect with your feet and the importance it has on your training objectives and achieving your human potential.'

TRX Partner Fusion (45min)
Louis Lopez & Az Laurence
This intense session emphasizes the power of working with partners while providing a fusion of the functional strength and high intensity rotational power of the TRX Suspension and TRX Rip Trainers. Experience specific techniques to energize your training sessions, engage otherwise dormant partners and maximize movement quality which will redefine your participant's experience and maximize the capacity of your program!

TRX Optimal Recovery (90min)
Nickous Skevis & Paul Edmonson & Charlotte Tooth

This applied session addresses how to reap the benefits from the hard work of training by recovering quickly and effectively while enhancing durability. This often overlooked and under-appreciated element maximizes the effect of each training session and enables quick returns to and higher quality training.

Advanced Functional Programming (75min)
Danny Bartlett & Darren Dillon

Create impactful and individualized training experiences that will take your participants to the next level.
This session explores how to skillfully manipulate the array of important exercise and training variables while integrating critical programming considerations to provide the most targeted and effective training programs.

FACEUP Games
Matt Gleed, Charlotte Tooth, Darren Dillon, Miguel Vargas

The summit will close with our TRX FACEUP Games. The TRX Family is all about what it means to be a team. We work together, push eachother, laugh together, lead each other, and help carry the load- both physically and mrntally. The constructs of these bonds are hard to define- but we think F.A.C.E.U.P is pretty close. F- FUN, A- Authentic, C- Competitive, E- Effective, U- United, P- Physical.


Date
Details

Attendee Check In - Oxford University

Saturday, September 16
7am-8am

Attendee Check in
Continuum Performance Center

Saturday, September 16
8am-5pm

Summit Day 1- Sessions
Oxford University

Sun, September 17
8am-12pm

Summit Day 2- Sessions
Oxford University

Sun, September 17
1pm-3:30pm

FACEUP Activity
Oxford University
The recommended hotels close to the venue are listed below;
Parking available onsite free of charge on weekends.
Oxford Station - You can get a train direct from London Paddington, Birmingham New Street, Manchester Piccadilly and Bournemouth.
If you are flying in we recommend flights into and out of one of the two airports:
London Heathrow (LHR)  

Stanstead Airport (STN)